NEWSLETTER 12 - THE GOSSIPS
Shiv Duggal revisits a trick from Peter Kane
A BLAST FROM THE PAST
There was a time when close-up card magic consisted of laying cards out on a table top. Cards peregrinated between packets as aces were assembled, invisible cards were palmed, and kings and queens visited naughty hotels. In the 1970s the table top was the stage and that stage was readily found at magic clubs and conventions if nowhere else. You could guarantee that if someone was lecturing on card magic, they'd be sat at a table and the whole show was on the horizontal, and very hard to see even if you were sat in the second row.
That gripe aside, there was much fun to be had in working out handlings for some of the most popular plots of the day. One such plot was The Progressive Aces and that's the trick described in this issue. It's contributed by my good friend Shiv Duggal, a veritable encyclopaedia of card magic, as he shares with us a gift he received from Peter Kane and the trick it enabled.
Here's Shiv Duggal and some work on The Gossips.
A LETTER FROM PETER KANE by SHIV DUGGAL
I first met and became friends with Peter Kane in 1977 in Ken Brooke's magic studio when I was 18. I visited him in his home town of Manchester many times, and we usually met three time a year at the IBM convention, Blackpool Magic Convention or Ron's day in London (as it was affectionately called). We spent many hours talking about magic and jazz over a beer (or two!) and his now famous 'WC' trick as he called it.
This story however begins in 1982 when Magico Magazine published Kane a book about the magic of Peter Kane .
One of the tricks in the book was Gossips, Peter's handling of the progressive Ace assembly which was originally a problem posed by Ken Krenzel. This trick required a gimmicked card and back in 1982 printed gimmicked cards were not readily available, and had to be hand made.
Moving forward to 1983 and the Blackpool Magic Convention,  I am sitting in the bar having a drink with Peter Kane and he is signing my copy of his book.
Over drinks we started talking about the tricks in the book and I happened to mention that I really liked Gossips but that I couldn't make up the gimmick card required so could not perform it.  Afterwards, I gave the conversation no more thought and enjoyed a great convention.
Well, a week after I got home, I got a letter. Turning it over I found it to be from Peter Kane which was a lovely and unexpected surprise.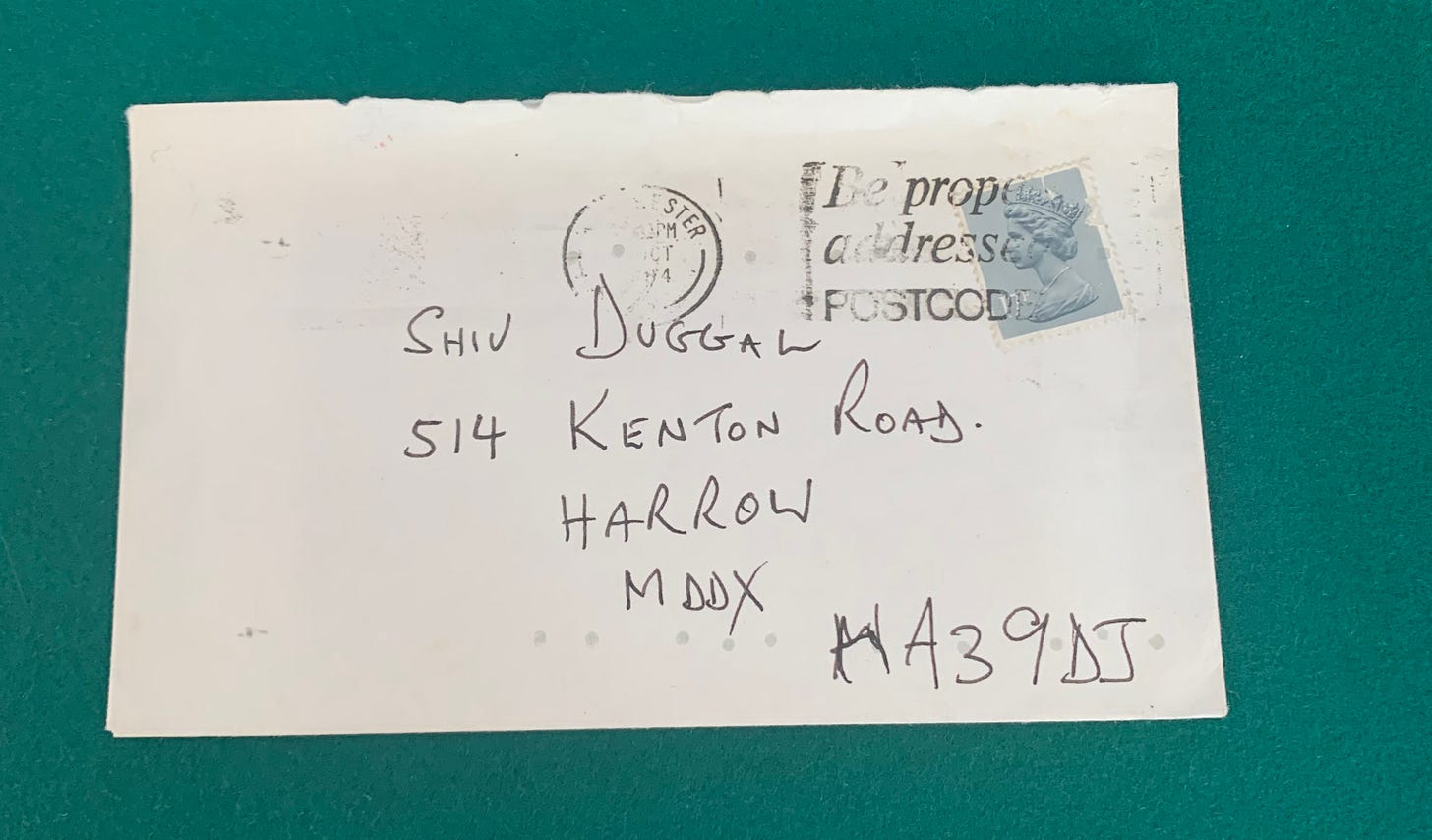 And to my further surprise, inside I found another little envelope.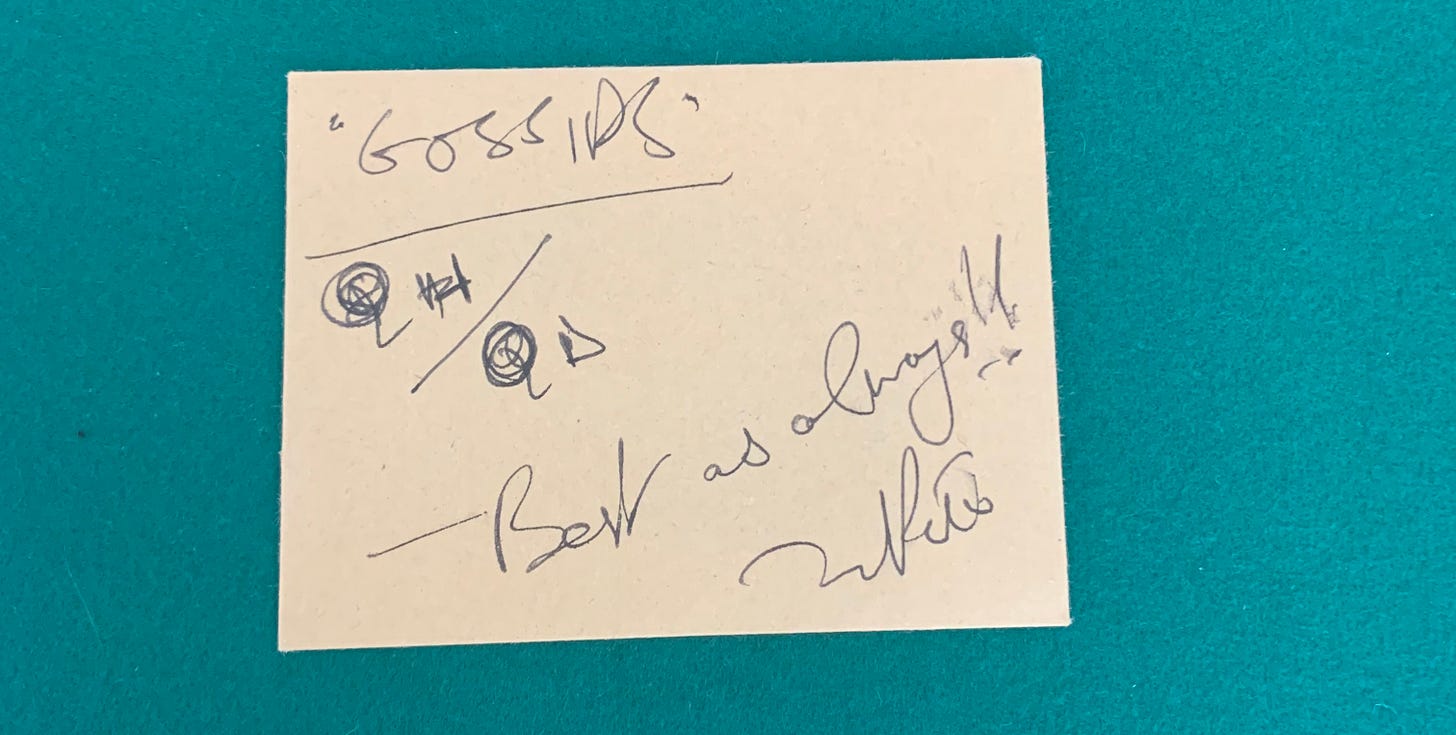 And inside that I found the Gossip gimmick card and an extra queen needed to perform the trick .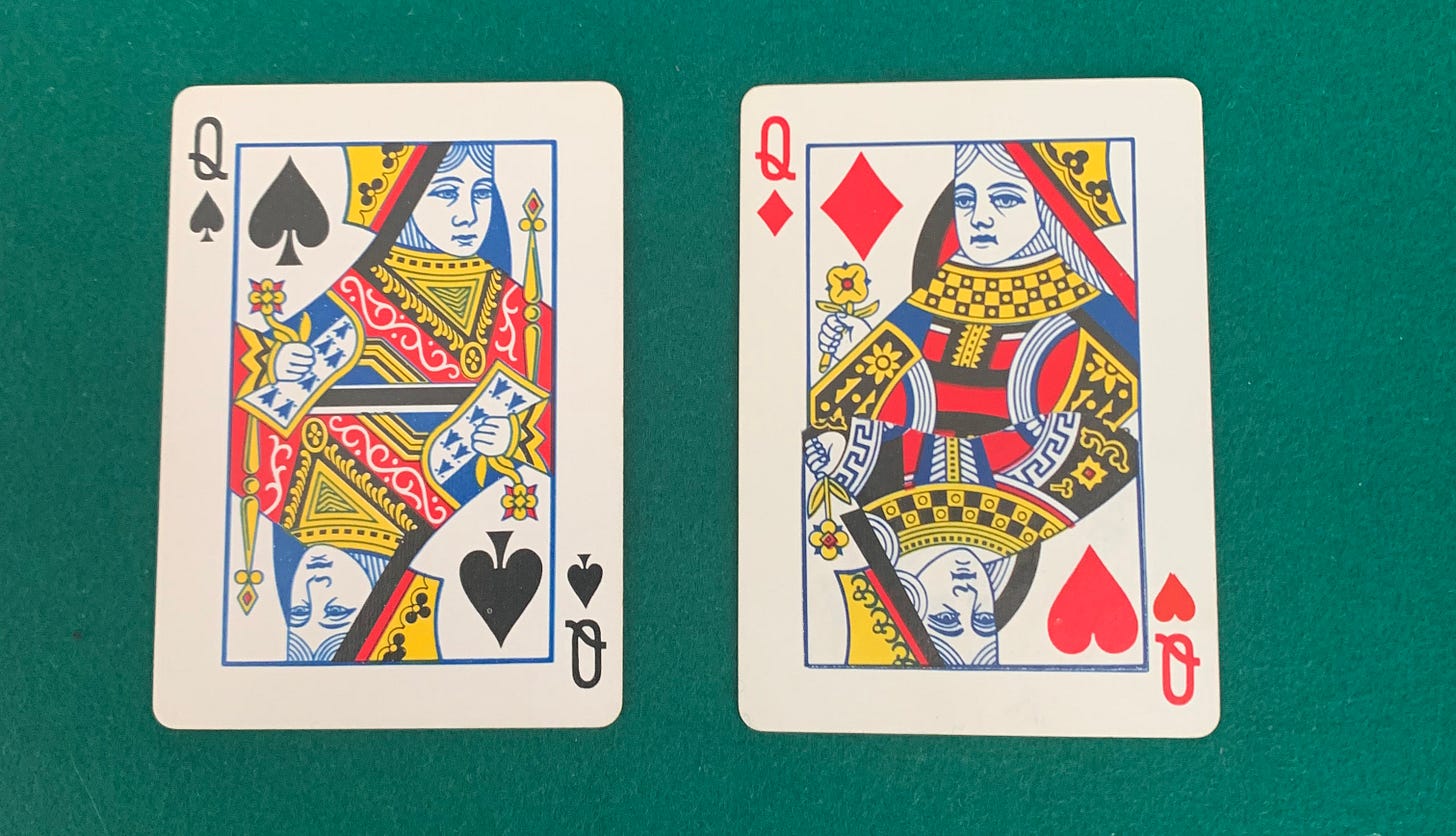 I now had the cards I needed to perform his lovely effect Gossips. It is just one of many fond memories I have of Peter, a friend and a warm and generous man.
REVISITING THE GOSSIPS
When Shiv told me the above story I thought it'd be good to include it in Cardopolis. The original used a second deal, which doesn't look great in the unrelenting stare of a fixed camera so it was necessary to change a few things. If you have Peter Kane's book, you can compare the version here with the original. But the main reason I wanted to feature the trick is the very clever use of the gimmicked card. It's an ingenious idea and I'm sure it could be applied to other effects. Meanwhile, enjoy Shiv Duggal's rendition of The Gossips.
A MOVE I NEVER USED
We all have moves we never use. This is one of mine. It was inspired by the Thumb Slide described in Hugard's More Card Manipulations volume 3. Hugard credited it to Hartz but made a mistake with the reference. You'll fine it attributed to Hartz by Hoffmann in The Magic Wand (March 1911). Hugard did say that the move never caught on. History is about to repeat itself.
Incidentally, Fred Kaps can be seen doing the Hartz move on one of those 8mm short films he made with Max Mindlin. In Expert Card Manipulations Max Mindlin browses his magic books and then dreams about performing the moves they describe. As Mindlin practises we see footage of Fred Kaps performing those moves. He executes the Thumb Slide beautifully.
The actions of the Thumb Slide led me to a different move that I practised a lot during the early 80s when working at Paul Stone's Ace Place in London. Standing around in a magic shop gives you lots of times for idle card handling. Piet Forton took a shine to the move. Every time he came into the shop he'd ask to see it again.
Steve Tucker published it in his Spell Binder magazine (June 1981) as Continuum. Steve rarely used Letraset to make the titles in Spell Binder. Like David Bowie composing lyrics, Steve cut headlines from magazines and newspapers and randomly assigned them to the tricks that came in. It worked pretty well and was a lot less work than rubbing down Letraset.
I mentioned the sleight recently to Jeff Connor who pointed out that Aaron Fisher used similar mechanics in a move called The Illusion Control (Apocalypse, Vol 18, No 11, November 1995). I dare say he got more use of his move than I did mine. Still, here it is.
FINALLY
If you have the gimmicked card used in The Gossips, then you might want to check out another use for it in Cardopolis Newsletter 3 under the title of Lost & Found.
And if you read this far, prepare for a treat. I managed to find a copy of the Kaps' film, Expert Card Manipulations, online. Not sure it is supposed to be there. It's fuzzy and black and white, the original movie was colour. But Kaps is simply superb. Enjoy.
Next issue we'll take a look at some less taxing material. Until then, happy practising.
David